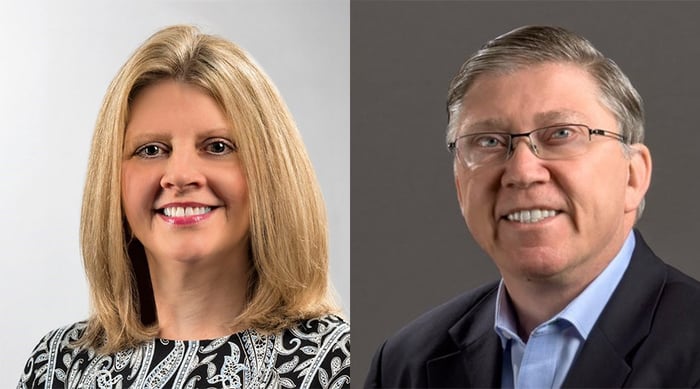 Meet Our Franchise Owners
Stan Brovont and Charlene Sosack have a twenty year history of working together in the corporate world at ARRIS, Inc., a $6.7B global leader in the telecommunications technology industry. They have long dreamed of owning a business together and are extremely excited to be on the OE franchise journey.

Stan has thirty-four years corporate management experience leading strategic planning and execution encompassing long term strategies and plans, acquisitions, divestitures, mergers, joint ventures, and minority investments. Stan owns two other businesses, including a financial advisory / investment banking consulting firm and a residential rental home business he owns with his eldest son. Stan holds a Bachelor of Science degree in Business Administration from University of the Pacific and has completed the Middle Management Program in Telecommunications at University of Southern California. He has held numerous board member roles for start-up and mid-stage companies.

In his free time, Stan has five grown children and a big community of friends that he enjoys sharing new foods with. He also enjoys sailing, riding his Harley-Davidson motorcycle and restoring his '69 Pontiac GTO.

Charlene has over thirty years of operations and administrative experience in banking, engineering and marketing. She has also owned a couple of women focused small businesses in the past. Her latest role was Marketing Operations Specialist managing procurement and purchase contracts for the global corporate marketing team at ARRIS, Inc. Prior to her specialist role, she was a Senior Administrative Assistant at ARRIS. She previously worked as a Senior Administrative Assistant at The Boeing Company and as a Secretary and Customer Service Representative at National Bank of Georgia. Charlene has completed numerous training programs with American Management Association earning certificates of achievement in administrative excellence, event planning, finance and accounting, communications, business writing, and marketing. She is also a Notary Public of Georgia, Superior Civil Court. Charlene will serve as the Business Center Manager. Outside of work, Charlene enjoys sharing a good meal with family and friends. She also likes baking, flower gardening and many kinds of crafts.